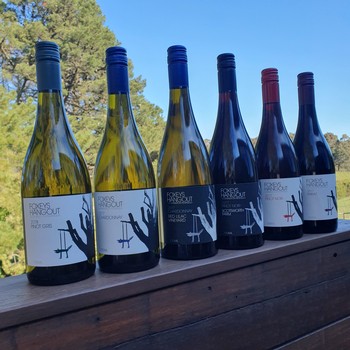 Spring Review Pack
What the critics say
Scotsworth Pinot Noir 2017
From the original vineyard we planted in 1998. The Real Review (Huon Hooke) called it solid and satisfying, scoring at 94: "A very smart pinot in a more structured style." The Wine Front rated it 93+ – "excellent". Halliday scored it at an impressive 95, describing it as "richer than its sibling, with fruit tannins and new oak dialled upwards." All three suggest it will only get better with age – try it now and see if you agree.
Foxeys Hangout Pinot Noir 2017
Our latest main-label pinot release: Halliday scored it 94. "Fragrant red fruits and spices; the style may be light, but it's got plenty going for it with oh-so-fine tannins bringing the palate to a close. I greatly like the finesse and elegance of this wine – and the length."
Foxeys Hangout Shiraz 2017
Another 94 score from Halliday: "Light to medium-bodied, juicy and vibrantly alive, it does travel along narrow-gauge lines, but that is counterintuitively a limitation I'll readily accept."
Foxeys Hangout Pinot Gris 2018
Huon Hooke scored this gris at 90, describing it as both intense and delicate. "The aroma is fresh and intense, lifted and flowery, as in pot-pourri, and slightly yeasty, with charm and allure." We agree it will drink best with food.
Foxeys Hangout Chardonnay 2017
"The palate is lean and taut and restrained but has good intensity and delicacy, with fresh acidity driving the palate along," writes Huon Hooke, who scored it 88.
Red Lilac Chardonnay 2017
Another of our single-vineyard wines with a 95 score from James Halliday. He notes its wild yeast and full solids ferment, and that it has been aged without new oak, in one-year-old hogsheads. "Tony Lee describes the palate as narrow (I don't agree) and focused (I do agree)." It is, Halliday notes, a very long palate.
Spring six-pack offer
Each of these wines in a special six-pack – valued at $261 but selling to our members at $200, with free postage. Offer available until Sunday 15/09/2019. 

Click here to get your pack now