The Book
We were not obvious candidates for a sea change. When we talked of moving to the country, friends pointed out that Tony and I were hardly back-to-nature types. 'Do you own a single pair of shoes without heels?' asked a friend. But at the end of a bleak winter, we bought an old farmhouse on 10 daffodil-dotted acres at Red Hill ...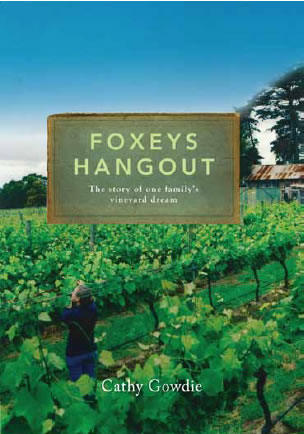 Exclusive signed copies at the cellar door
If you would like a special signed copy,
you can purchase them at the cellar door.
Author Cathy Gowdie – wife of Tony Lee – tells the story of the family's move from city dwellers to winemakers and of the murderous history behind their label. Brimming with Peninsula folklore and tales of what really goes on behind the cellar door, it includes 12 seasonal recipes featuring Mornington Peninsula produce and stunning, evocative photography by Jacqui Melville.
Published by Hardie Grant Books and nominated by Gourmet Traveller magazine as one of its favourite cookbooks of 2009. A superb souvenir of the Peninsula hills, and a glorious gift for wine-loving friends.
A compelling year-long tale behind the scenes of a winemaking family . . . an engaging, homegrown book illustrated with enchanting photography and monthly recipes to suit the changing seasons.
THE AGE 'EPICURE'
As the charming story unfolds we are delivered a month-by-month account of the joys and dilemmas this winemaking family encountered during their first years . . . the book is also a triumph.
GOURMET TRAVELLER WINE
Stories like Foxeys Hangout are a joy to read.
WINESTATE MAGAZINE