The Winemakers
After two decades of owning and running popular and award-winning Melbourne hospitality businesses, brothers Michael and Tony Lee turned their years of love and knowledge of fine wines into a livelihood on Victoria's beautiful Mornington Peninsula.
The brothers planted their first vineyard in the late 1990s at Merricks North near the iconic Peninsula road junction named Foxeys Hangout, from which our label takes its name.
With the guidance of their mentor, the late Australian sparkling wine pioneer Ian Home, Michael and Tony undertook further plantings of pinot noir, chardonnay and pinot gris in Red Hill on a historic farming property. Today this vineyard, White Gates, is the home of Foxeys' winery and cellar door.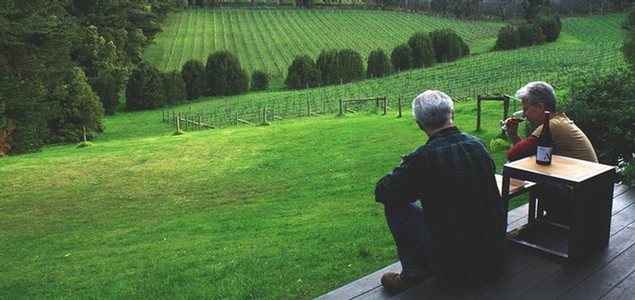 MICHAEL LEE
Inspired by the benchmark vintages of France's Champagne region, Michael believes that the Mornington Peninsula's potential as a producer of great sparkling wine is yet to be fully realised.
Michael began his career in the corporate world but quickly found himself buying, operating and renovating a series of Melbourne cafes and restaurants in partnership with his brother Tony and their mother Margaret, including the French restaurants Les Halles and Garcon.
Together the brothers opened one of Melbourne's first "gastro-pubs" in the early 1990s, South Yarra's Argo Hotel, which specialised in Victorian and fine European wines. In 2002, this enterprise was sold, allowing Michael and Tony to focus on Foxeys Hangout.
Michael is responsible for Foxeys' sparkling winemaking and unique cellar door sparkling disgorgement program.
TONY LEE
Tony Lee makes the kinds of wines he loves to drink: wines of elegance and character from naturally healthy vineyards, and from grapes that clearly express the terroir of the place where they grow. 'The more we get right in the vineyard, the less we do in the winery.'
Tony's winemaking journey began in his schooldays with work experience in Victoria's Yarra Valley. An economics degree and a chef's qualification followed before Tony returned to his vocation, undertaking winemaking studies at Charles Sturt University in New South Wales in the 1990s.
In 2002 Tony and his family moved to the Red Hill property where Foxeys' cellar door and kitchen now stands above the vineyard he and Michael planted together. As the vines grew, Tony's experience in this vineyard and at Foxeys' nearby winegrowing sites contributed to his conviction that the purest expression of terroir and clearest varietal character comes from grapes grown in healthy soils with no synthetic chemicals.
In the two decades since Foxeys Hangout harvested its first vintages the wines have won a string of trophies and accolades from Australia's most respected independent wine judges and writers.
Tony's commitment to natural, sustainable viticulture drove the decision to manage Foxeys' key vineyards biodynamically. Three of these vineyards now have full organic certification, as does the Foxeys winery.