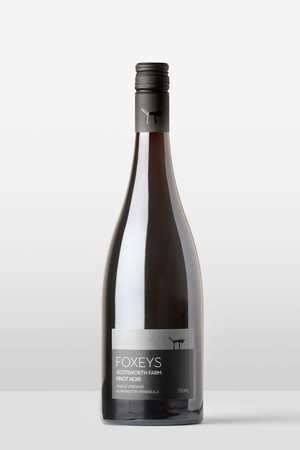 Scotsworth Farm Pinot Noir 2022
Scotsworth always shows very perfumed and primary fruit up front; violets, red berries and spice with darker fruits too, a rounder palate profile than other pinot noirs in the Foxey range and also more structural tannins lending further weight to the savoury fullness. There is an intriguing earthiness to this wine that is quite captivating. A wine that grows in the glass, it loves to get plenty of air and becomes more interesting and powerful with several years of bottle age.
Scotsworth Farm is the first vineyard we planted in 1998, near the old Foxeys Hangout tree. Initially quite vigorous, the MV6 clone pinot vines have settled now and result is nicely balanced, cane-pruned vines, neither too vigorous nor lacking energy. Fruit set is very even so little fruit thinning is seldom required, certainly none in a low yielding season like 2016. Leaf plucking is carried out soon after fruit set, so the grapes are quite well exposed to the sunshine. Sounds easy: but a good vineyard of nicely balanced vines is sometimes a happy accident, often hard work too.
Straightforward winemaking involving native yeast fermentation in small batches with hand plunging and native malolactic in spring inside quite a lot of new French oak, but the pinot from this vineyard integrates new oak very well. In fact, it swallows up new oak and comes out all the richer and more complex without looking toasty. While we suggest drinking this wine with noble game dishes like squab and duck; it will partner equally well with stronger flavours like a rack of lamb or rib-eye steak with potato gratin.